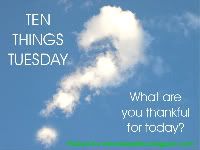 Ten Things Tuesday.....with the letter J, Andria did the letter K, which seemed like it would be really hard, so I am going to take on the letter J.

1. Joy, James, Josh, Jake - some of my favorite people have a J in their name.

2. Jello pudding, makes my yummy guilt free muffins

3. Java - I don't like the taste, but the smell is yummm.

4. Jackets - I am ready to bust out the jackets for fall.

5. Jonesboro - my refuge from the cotton fields.

6. Job - the fact that my husband has one that allows me to get to spend my days with my babies.

7. Junk - I am trying to purge and get rid of junk...a little at a time I am climbing the mountain of junk.

8. Joke - I heard a joke on TV last night and told it to Brian and he laughed, and laughed. I love to hear him laugh.

9. Jeep - my jeep is paid off....yeah!

10. Jeans - my jeans are quite a bit looser than they were earlier in the month...yeah!!!